Workshop
"Endangered" Scholars and "Rescue" Policies. Recent Research and Future Prospects
June 27 | 13:00
Die Aufnahme von "gefährdeten Wissenschaftlern oder Akademikern" (gefährdete Forschende, Endangered Scholars, Academics at risk,…) war und ist im 20. und 21. Jahrhundert Gegenstand diverser Initiativen, die mal Menschen vor Verfolgung schützen oder gegen autoritäre Regime vorgehen wollten, mal durch die Wissenschaft den Weg zum Frieden ebnen oder allgemeiner die intellektuelle Freiheit verteidigen. Hier kommen zwischenmenschliche und politische Solidarität mit einem Interesse am wissenschaftlichen Beitrag derer zusammen, denen es in ihrem Herkunftsland unmöglich ist, ihrer Forschung nachzugehen.
Die Folter und Exekution der Archäologen in Syrien in 2015, und darauffolgend das Ausmaß der Repression gegenüber den Universitäten in der Türkei, haben der Frage nach gefährdeten Wissenschaftlern eine neue Aufmerksamkeit zuteil kommen lassen. Und dies in einem Kontext, in welchem Migration seitens der europäischen Regierungen und der EU nunmehr als "Problem" benannt wird.
Unser Ziel ist es Analysekategorien und Methoden zu durchleuchten, um – langfristig, historisch, vergleichend und aus pluridisziplinärer Perspektive (Geschichte, Soziologie, Politikwissenschaften) – einerseits die Besonderheiten migratorischer Werdegänge zu verstehen, und andererseits die Ausgestaltung institutionalisierter Aufnahmeprozesse herauszuarbeiten. Dieser Workshop soll einen ersten Überblick über laufende Arbeiten und die Umsetzungsmöglichkeiten solcher Forschungen geben.
Veranstaltungssprachen sind Französisch, Englisch und Deutsch.
Contact
Laura Roos
roos ( at ) cmb.hu-berlin.de
Program
Day I
13:00      Registration & coffee
13:30      Official welcome Catherine Gousseff (Director CMB) / Clarisse Brehier (Ambassade de France)
Introduction Leyla Dakhli (CMB) / Pascale Laborier (ISP/Paris Nanterre)
14:00 Keynote Ludovic Tournès (UNIGE):
Scholars in exile and transnational scientific circulations: A long term perspective (19th-21st century)
Session I
Challenging terminologies
14:45-16:30
Moderation: Karen Akoka (ISP)
Aline Angoustures (Ofpra)
Les catégories de la protection des réfugiés et la notion de scientifiques en danger  
Légitimation et transformation du statut d'intellectuel par l'exil: le cas du "Mahjar" syrien au tournant du 20ème siècle
                Terminologies de l'insécurité juridique dans les pays d'accueil: Le harcèlement juridique des universitaires exilés
Léa Renard (CMB, Uni Potsdam)
Crise des réfugiés ou crise des catégories? Éléments de réflexion sur la construction des catégories d'action publique liée à la migration et l'accueil
Day II
Session II
Experiences – Subjectivities
Moderation: Nadine Machikou (Université de Yaoundé II)
9:00 – 10:30 Panel 1: Resources and Risks of the Private
Tebessüm Yılmaz (HU Berlin) 
Decolonizing Western Academia: The Economy of Gratefulness
Marion Detjen (ZZF, Bard College)
Gendered Autobiographical Strategies in Exile: The Case of the European-American publisher Helen Wolff
Les exilés arrivés en France après les événements de Tian'anmen: Parcours migratoires, trajectoires sociales et conditions de vie
           From autobiographic approaches to feminist dystopias à la turka
10:30-11:00 Coffee break
11:00-12:30 Panel 2: Exile, Identity, Representation
                Exiled to and from Syria: Changing representations of Syrian emigrés/immigrants in the 20th century
Sophie Wauquier  & Elena Soare (Paris 8)
Grammaire explicite et intégration des migrations d'élite
L'exil et la langue: La portée du vécu linguistique dans les parcours d'intellectuels/universitaires exilés, aujourd'hui en France
Session III
Networks and institutional opportunities & limits (part I)
Moderation: Nikola Tietze (HIS)
14:00-15:30 Panel 1: Institutional responses in the making
L'accueil des académiques russes expulsés à Prague 1920-1939
To Remain Relevant in Exile: Soviet Scholars between Dissident Celebrity and the In/Translatability of Academic Cultures during the Late Cold War
Ioana Popa (ISP/Paris Nanterre)
Un réseau transnational de soutien à des scientifiques en danger pendant la Guerre froide tardive: Le Comité des mathématiciens
Marianne Amar (ISP/Paris Nanterre)
Politiques de réinstallation des élites déplacées et stratégies migratoires (1947-1951)
15:30-16:00  Coffee break
16:00-17:30 Panel 2 : Networks and hosting opportunities
Tristan Leperlier (EHESS)
Écrivains et universitaires algériens en exil: Comparaison de Caen et Berlin comme "Ville refuge" du Parlement International des Écrivains dans les années 1990.
Marion Fert  (Université de Neuchâtel)
Emergence and making of intellectual elites in a context of forced displacement. A case study amongst Congolese refugee students in Rwanda
Pascale Laborier (ISP/Paris Nanterre)
Les migrations académiques et la politique française d'accueil. Entre politique spécifique et modèles d'intégration universalistes
18:30-19:30 Panel discussion
Creating a safe space for "endangered scholars" or actually welcoming them? A question for European universities.
Day III
Session III
Networks and institutional opportunities & limits (part II)
Georg-Simmel Saal, 3rd  floor
Moderation: Fabien Jobard (CMB)
9:30-11:00 Panel 3: On forced Academic Mobilities: Comparative Approaches and Methods
Intellectual emigration, exile and creativity: Parameters for a comparative approach
Denis Eckert (CMB) & David Lagarde (Toulouse II)
                Représenter les trajectoires migratoires des chercheurs
Christoph Rass (IMIS, Osnabrück)
Modelling forced mobilities and their representations: Digital approaches
La Bibliothèque de documentation internationale contemporaine et les comités d'intellectuels réfugiés: lieu d'accueil des personnes et de sauvegarde d'archives
Session IV
Exiles and Knowledge: Transfer, Mediation, Entanglements
Salle Germaine Tillion, 7th floor
Moderation: Denis Thouard (CMB)
9:30-11:00 Panel 1: Exile and Knowledge during the Interwar and WW2
An Entangled History of the Humanities and Social Sciences in Turkey, 1923 – 1945: Lives and Knowledge in Exile
Tobias Boes (University of Notre Dame)
In der "Festung der Freiheit": Thomas Mann, die Library of Congress, und die Gelehrtenmigration im Zweiten
Academic Networks in Exile: South Asian Scholars in Interwar Berlin Weltkrieg.
11:00-11:30  Coffee break
11:30-13:00 Panel 2 : Post-WW2 Knowledge Transfers
Derya Fırat (ISP/Paris Nanterre)
L'Universitaire: Une figure à part parmi les exilés de Turquie en Europe (1948-2018)
Antonin Cohen (ISP/Paris Nanterre)
Has European emigration had any impact on theories of European integration? Emigrés scholars in the United States 1930-1970
Alexander Benatar (HU Berlin)
Herbert Fischer – a Life Story of Indo-German Entanglement
Frank Wolff (IMIS/Universität Osnabrück)
Academics "from the cold": The Politics and Generationality of Cold War knowledge transfer in Divided Germany 1945-1989
Location
Salle Germaine Tillion
Centre Marc Bloch
Friedrichstrasse 191
10117 Berlin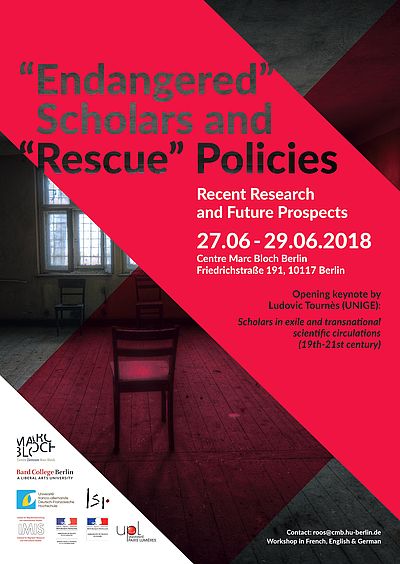 Files