DARIAH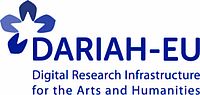 DARIAH is a European Research Infrastructure Consortium (ERIC). It supports arts and humanities scholars working with computational methods. People in DARIAH provide digital tools and share data as well as know-how. They organize learning opportunities for digital research methods, like workshops and summer schools, and offer training materials for Digital Humanities. DARIAH currently connects several hundreds of scholars and dozens of research facilities in many different European countries. In addition DARIAH has strong ties to many research projects across Europe. Created in 2015 DARIAH ERIC is established for twenty years and currently has 17 member countries: Germany, Austria, Belgium, Croatia, Cyprus, Denmark, France, Greece, Ireland, Italy, Luxembourg, Malta, the Netherlands, Poland, Portugal, Serbia and Slovenia. The statutory seat is in Paris, France. The coordination of DARIAH activities is done by the DARIAH Coordination Office, which is based in Berlin (Centre Marc Bloch), Goettingen (University of Göttingen) and The Hague (DANS).
Further information on: www.dariah.eu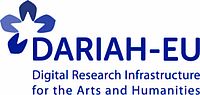 DARIAH ist eine europäische Forschungsinfrastruktur (ERIC), die ForscherInnen aus den Geistes- und Sozialwissenschaften unterstützt, die mit digitalen Methoden und/oder zu digitalen Forschungsobjekten arbeiten. Sie vereint hunderte von ForscherInnen und IngenieurInnen sowie zahlreiche Forschungseinrichtungen unter ihrem Dach und bietet ihnen ein Netz an Technologien für einen verbesserten Austausch von Informationen, Daten, Tools und Know-how. Die Infrastruktur soll den WissenschaftlerInnen einen leichteren Zugang zu Forschungsmaterialien verschaffen, darunter auch der Fond des europäischen Kulturerbes. DARIAH stützt sich auf Initiativen der einzelnen Länder und bietet eine Plattform zur Förderung von transnationalen Forschungsprojekten und Kooperationen. Sie stellt der Forschungsgemeinschaft ein breites Spektrum von Angeboten und Aktivitäten zur Verfügung: transnationale Bildungsangebote, Summerschools, einen Leitfaden für Normen und Good Practices in der Verwaltung digitaler Daten und Beratung zur Verbesserung von Datenrepositorien.
DARIAH wurde im Jahr 2015 für eine Laufzeit von zwanzig Jahren gegründet und hat derzeit 17 Mitgliedsländer: Deutschland, Österreich, Belgien, Kroatien, Zypern, Dänemark, Frankreich, Griechenland, Irland, Italien, Luxemburg, Malta, die Niederlande, Polen, Portugal, Serbien und Slowenien. Sein Geschäftssitz ist in Frankreich. Die Koordinationsteams sind am Centre Marc Bloch, an der Universität Göttingen sowie am Institut DANS in Den Haag angesiedelt.
Weitere Informationen unter: www.dariah.eu