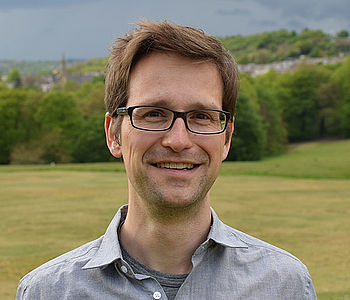 Home Institution : University of Sheffield | Position : Lecturer in Modern History | Disciplines : History | former Department : Department of History

Biography
Andrew Tompkins is a Lecturer at the University of Sheffield, where he teaches German and European history. He was previously a Humboldt Post-Doc Fellow at the Humboldt-Universität zu Berlin, supported by funds from the Germany Universities' Excellence Initiative.
His research broadly addresses transnational experiences in Europe during the 20th Century. His current research examines the borders of post-1945 Germany (East and West), focusing on how residents along the Rhine and Oder rivers put national borders to use in their own lives. His doctoral thesis, which examined transnational protest against nuclear energy in France and West Germany during the 1970s, was published in 2016 with Oxford University Press.
Scholarship
2011-2012 Michael Foster Memorial Scholarship (DAAD)
Researchtopic
Fluid Boundaries? The Rhine and Oder-Neiße Borderlands since 1945
Title of thesis
'Better Active Today than Radioactive Tomorrow!': Transnational Opposition to Nuclear Power in France and West Germany, 1968-1981
Institution of thesis
Université de Sheffield
Supervisor
Robert Gildea and Jane Caplan
Fließende Grenzen? Der Alltag entlang des Rheins und der Oder-Neiße-Linie im Kalten Krieg
Publications
Monographs:
Better Active than Radioactive! Anti-Nuclear Protest in 1970s France and West Germany, Oxford University Press, 2016.
Articles:
"Binding the Nation, Bounding the State: Germany and its Borders", German History, 37, 1 (2019), 77–100.
Co-editor (with J. Hansen, J. Hung and P. Wagner) of special issue on ʻThe Material Culture of Modern Politics in Cold War Europe', International Journal for History, Culture and Modernity, 6, 1 (2018), pp. 1–12.
"Grassroots Transnationalism(s): Franco-German Opposition to Nuclear Energy in the 1970s", Contemporary European History, 25, 1 (2016), 117–42.
with Robert Gildea, "The Transnational in the Local: The Larzac as a Site of Transnational Activism since 1970", Journal of Contemporary History 2015, Vol. 50(3), 581-605.
"Transnationality as a Liability? The Anti-Nuclear Movement at Malville", Revue Belge de Philologie et d'Histoire 2011, 89(3-4), 1365-1379.
Reviews:
Review of A.W.M. Smith, Terror and Terroir: The Winegrowers of the Languedoc and Modern France, French History, 32, 4 (2018), pp. 615–617.
Review of Eleanor Davey, Idealism beyond Borders: The French revolutionary left and the rise of humanitarianism, 1954-1988, Social History, 43, 1 (2017), pp. 156–158.
Review of Nancy A. Naples and Jennifer Bickham Mendez (eds), Border Politics: Social Movements, Collective Identities and Globalization, Journal of Contemporary History, 52, 2 (2017), pp. 474–476.
Review of T.S. Brown, West Germany and the Global 1960s: The Antiauthoritarian Revolt, 1962-1978, German History, 32, 3 (2014), pp. 507–509.