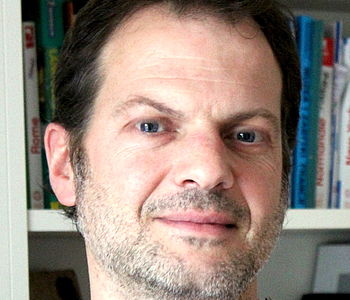 Home Institution : Centre Marc Bloch, Berlin | Position : Researcher at CNRS | Disciplines : History , Political Science , Sociology |

Biography
Guillaume Mouralis is a historian and sociologist at the National Center for Scientific Research (CNRS). His research interests include the recent history of Germany, the history and sociology of law, post-war justice, purges and mass crimes trials.
After a doctoral research on the judicial purges of GDR officials in Germany before and after 1990, he turned his attention to the main Nuremberg Trial. This work resulted in a Habilitation (HDR), completed in December 2017. A revised version of this research was published by the Presses de Sciences Po in 2019 under the title Le moment Nuremberg. Le procès international, les lawyers et la question raciale [The Nuremberg Moment: The International Trial, the Lawyers and the US Racial Issue] (Series "History", 264 p.).
In his current research programme, entitled "Mobilizing International Law (19th - 21st century)", he examines the links between the subversive appropriations of international law and the construction of transnational causes. This project is based in particular on an in-depth investigation of the "citizens'" commissions of inquiry and "opinion" courts created from the 1920s to the 1960s.
His recent publications include Une épuration allemande. La RDA en procès, 1949–2004 (Paris: Fayard Publishing, 2008); Dealing with Wars and Dictatorships. Legal Concepts and Categories in Action (The Hague: Springer / Asser Press, 2014, co-edited with Liora Israël); "The Nuremberg Trials. New Perspectives on the Professions", special issue of Comparativ (co-ed. with M.-B. Vincent, vol. 26, n°4, 2017); as well as numerous articles in French, German and English.
CV File
Mobiliser le droit international. Appropriations subversives du droit, investissement de la forme procès et construction des causes transnationales (XIXe-XXIe siècles).
Crimes. Droit de la guerre, transgressions et procès
March 24, 2020
Guillaume Mouralis
, Direction: Hervé DREVILLON & André LOEZ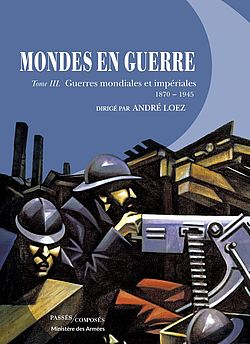 Essay aus Sammelband
Edition:
Passés / Composés
ISBN:
978-2-3793-3248-7
Guillaume Mouralis, "Crimes. Droit de la guerre, transgressions et procès", in André Loez, dir., Mondes en guerre. Tome III: Guerres mondiales et impériales. 1870-1945, Paris, Berlin & Passés Composés, p. 671-701 (+ illustrations et notes).
Mondes en guerre - Tome III
Guerres mondiales et impériales. 1870-1945
Explorer la diversité des pratiques guerrières sur tous les continents depuis la préhistoire jusqu'à nos jours, telle est l'ambition des Mondes en guerre. Dès l'Antiquité, objet du premier volume, la formation d'empires alimenta un vaste processus de confrontations et d'échanges militaires, avant que l'ère des Grandes Découvertes, au départ du second volume, ne déclenche l'intégration de tous les continents dans un espace martial unifié.
Ce troisième tome explore les guerres mondiales et impériales entre 1870 et 1945, séquence historique où la puissance nouvelle des armes industrielles marque tant d'espaces, de l'Afrique colonisée aux tranchées de la Somme, des steppes de Russie aux immensités du Pacifique. À travers une analyse sur la longue durée d'une période marquée par la sujétion du globe aux grandes puissances militaires, et par une approche thématique – les combattants, les armes, les empires, les mobilisations, les refus ou encore les crimes de guerre –, les auteurs, sous la direction d'André Loez, mêlent histoire au ras du sol, donnant leur place à tous les acteurs ordinaires, et questionnement global sur l'importance des guerres pour les sociétés qui les traversent. Texte, iconographie et cartes inédites permettent ainsi de saisir, dans leur diversité, les expériences humaines de la guerre dans le monde.