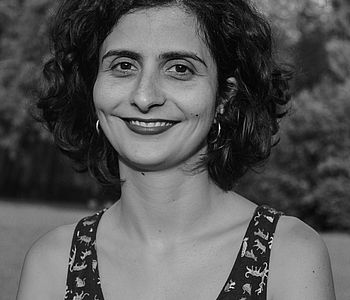 Position : Student - MSc. European Urban Studies | Disciplines : Urbanism , Architectural Sociology |

Biography
Master student in European Urban Studies at IfEU (Bauhaus-Universität Weimar), Karina has a background in architecture, urbanism and sociology. She is interested in how the internet has changed the way we experience the city. She currently researches civic networks (online and offline) that challenge the influence of ICTs on urban space.
Social Movements, internet and the City: the case of Fuck off Google
The research covers the perpective of a social movement called "Fuck off Google". It examines the perception activists have about Google's presence in the city.
Internet, as well as information and communications technology (ICT) in general has been changing the
way we use and experience the city. This reality raises new issues such as the control ICT has on our
everyday life and its potential to deepen urban segregation. How social movements react locally on this
global phenomenon is the grounding question for this ongoing master research. The Fuck off Google
movement emerged in 2017 with the aim of preventing Google to install a new campus in an old electrical
substation located in Kreuzberg, Berlin. Their primary concern was the possible acceleration of the
undergoing gentrification in the neighborhood. Yet, despite their success in stopping the settlement of that
campus, they also questioned socio-spatial consequences of the censorship and mass-surveillance
employed by Google. Additionally, they called themselves on the internet as a diverse multitude, using
online and offline strategies to build a decentralized network of resistance. Therefore, by recognizing that
examining this case requires some interdisciplinary bridges, I approach the topic in a triad of concepts—
i.e. protest, urban space and technologies of information—mixing qualitative methods with some
knowledge about urban planning and new media. Theoretic conceptualization and data collected divide in
two complementary axes of analysis: 1) the movement's connection with space (Kreuzberg) and, 2) their
relation with ICT, both regarding the content of the claims and the way multiple actors organize the
movement in the internet.