Iwona Janicka
| Associated Researcher
Former Member
Centre Marc Bloch, Friedrichstraße 191, D-10117 Berlin
---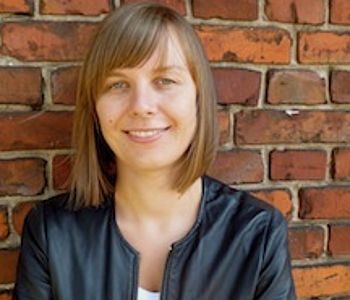 Home Institution : University of Warwick | Disciplines : Philosophy |

Biography
Iwona is currently an affiliated researcher at the Centre Marc Bloch. Previously, she was Early Career Innovation Fellow at the Institute of Advanced Study at the University of Warwick (2018-19), where she also held a British Academy Postdoctoral Fellowship (2015-18). As Gates Scholar she completed her PhD in French at the University of Cambridge, Trinity Hall, in 2014. She held visiting fellowships with the Hannover Institute for Philosophical Research (Germany) and the Posthuman Aesthetics research group at Aarhus University (Denmark). Her research has been supported by Studienstiftung des deutschen Volkes and Hertie-Stiftung.
Iwona's teaching and research interests lie within the area of twentieth- and twenty-first-century French and German philosophy, political thought and theory (French, Critical, Literary, Feminist, Queer, Anarchist). She is particularly interested in the works of Peter Sloterdijk, Isabelle Stengers, Michel Serres, Bruno Latour, Vinciane Despret, Alain Badiou, Jacques Rancière, René Girard and Gilbert Simondon. Her doctoral project dealt with the concept of universality and social transformation in most recent philosophical thought (Theorizing Contemporary Anarchism, 2017). Her postdoctoral research with the British Academy investigates the possibilities of formulating a non-anthropocentric concept of politics. The project examines not only a philosophical idea but, more importantly, interrogates forms of political practice that can be envisioned from within a non-anthropocentric framework (Nonhumans and Politics, in progress).
Institution of thesis
University of Warwick
How to Build a Common World? Contemporary French Philosophy and the Question of World Formation.
Recent ecological and technological developments have impacted continental philosophy. Notably, contemporary French philosophy has provided us with a set of theoretical tools to recalibrate our conceptual apparatus to analyse the present. In this context, the project deals with the question of world-building in most recent French and German thought. It will examine how selected contemporary thinkers renew philosophy in their turn to 'postcritique' and why they move from diagnostics and critique towards gestures of affirmation and construction. For that purpose, the project brings together some of today's most important thinkers whose work draws not only on philosophical traditions but also engages with art and sciences: Michel Serres, Isabelle Stengers, Bruno Latour, and Peter Sloterdijk. For all of these thinkers, the question of milieu is fundamental for thinking processes of world-formation, collective individuation and political modes of existence. At the heart of this project lies the question of habitation, co-habitation and habitability in the world today.
Publications
Monographs
2017 Theorising Contemporary Anarchism. Solidarity, Mimesis and Radical Social Change (London and New
York: Bloomsbury Academic) ISBN 9781474276191, 192 pages.
Journal Articles
2019 "A New Way to Suffer: Girard, Rancière and Political Subjectification" Contagion: Journal of Violence,
Mimesis, and Culture (26): 161–78.
2017 "Über das Astronomische und das Mikroskopische: Sloterdijk und die Frage des Ausmaßes" [Scaling up,
Scaling down: Sloterdijk and Grand Narratives], Pro-Fil: An Internet Journal of Philosophy (Special Issue),
18–23. doi.org/10.5817/pf17-3-1647
2017 "Nichtmenschen und Politik. Was bedeutet das? Wie funktioniert es?" [Nonhumans and Politics. What is it?
How does it work?] fiph. Kulturökologie (29/April): 21–26.
2016 "Are These Bubbles Anarchist? Peter Sloterdijk's Spherology and the Question of Anarchism." Anarchist
Studies (24.1): 62–84.
2015 "Queering Girard – De-Freuding Butler. A Theoretical Encounter between Judith Butler's Gender
Performativity and René Girard's Mimetic Theory." Contagion: Journal of Violence, Mimesis, and Culture
(22): 43–64.
2013 "Homosocial Bonds and Narrative Strategies in Adolphe Belot's Mademoiselle Giraud, ma femme (1870)."
Romanica Silesiana. Gendered Constructions (8): 138–150.
2013 "Hegel on a Carrousel: Universality and the Politics of Translation in the Work of Judith Butler." Paragraph: A
Journal of Modern Critical Theory 36 (3): 361–75.
2010 "Mapping the Father. The Application of Greimassian Semiotics to Bruno Schulz's Sklepy Cynamonowe."
Welt der Slaven: Internationale Halbjahresschrift für Slavistik LV: 45–66.
Chapters in Edited Volumes
2019 "Nonhuman Politics and its Practices" (forthcoming in The Posthumanism Handbook, ed. Jacob Wamberg
and Mads Rosendahl Thomsen, Bloomsbury Academic)
Reviews
2019 Elettra Stimilli. The Debt of Living: Ascesis and Capitalism, translated by Arianna Bove, foreword by Roberto
Esposito (New York: SUNY Press, 2017), Journal of Italian Philosophy, forthcoming
2017 Grace Hellyer and Julian Murphet (eds.). Rancière and Literature (Edinburgh: Edinburgh University Press,
2016), French Studies, doi.org/10.1093/fs/knx171
2016 PierpaoloAntonello and Heather Webb (eds.). Mimesis, Desire, and the Novel. René Girard and Literary
Criticism (East Lansing: Michigan State University Press, 2015), Modern Language Review 111.4: 1117–
1118.
2016 Lisa Jeschke and Adrian May (eds.). Matters of Time: Material Temporalities in Twentieth-Century French
Culture (Oxford: Peter Lang, 2014), French Studies 70 (1): 141–142. doi:10.1093/fs/knv241
2014 David Scott. Gilbert Simondon: Psychic and Collective Individuation. A Critical Introduction and Guide
(Edinburgh: Edinburgh University Press, 2014) for Notre Dame Philosophical Reviews, 2014.12.23