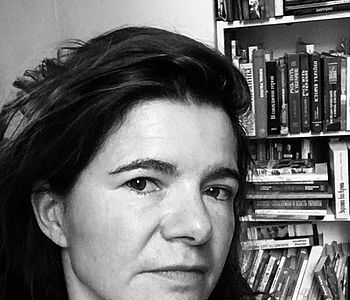 Home Institution : Université Paris-Ouest Nanterre La Défense | Position : Chercheuse associée, financement post-doctoral du Centre Marc Bloch | Disciplines : History , Political Science , Sociology |

Biography
Sophie Lambroschini is an expert of contemporary Russia and Ukraine with an eye on elite networks, ordinary economic actors, and economic sociology of conflict. In 2018, she began to investigate how the war in eastern Ukraine transforms local economic interactions through anthropological research into cross-frontline water supply. Her new project, funded by the Centre Marc Bloch, expands these "geopolitics from below" to exploring how local economic and political dynamics in Central and Eastern Europe are affected by Eurasian transnational infrastructure and connectivity projects, Russian gas and oil export networks in particular. In 2018, she defended a dissertation in Slavic studies at the University of Paris Nanterre about transnational Soviet elites in a context of global transformation, through a study of the trajectories and practice of Soviet bankers on "capitalist" markets during the Cold War (1971-) and their legacy in post-Soviet Russia. Formerly working as a journalist in Moscow and Kyiv (1994-2008) she published a book (Les Ukrainiensed. Henry Dougier 2014 and 2016) contextualizing the Ukraine crisis of 2014 from a historical, political and social perspective. Other recent contributions include op-eds for ZOIS and Kennan Institute, articles, as well as participation in conferences and other international academic events and can be consulted in the CV section.
CV File
Scholarship
Université Paris Ouest Nanterre La Défense, France. PhD Researcher contract Nov. 2011- Nov. 2014
Deutsche Historische Institut Moskau. Short-term field research grant. Moscow, May-June 2015
Centre Marc Bloch, Berlin. Short-term research grant, October 2015.
Centre Marc Bloch, Berlin. PhD completion writing grant, February-April 2017.
Title of thesis
On the Cold War's financial frontline: Soviet capitalist bankers from 1973 onward: trajectories, practices and Post-Soviet conversion. [soutenue en février 2018, Université Paris Ouest]
Summary of thesis
Mon travail de thèse a pour objet les carrières des banquiers soviétiques travaillant dans les filiales occidentales de la Banque du commerce extérieur de l'URSS, groupe professionnel de l'élite économique soviétique exposé aux mutations internes et internationales entre 1973 et 1998. L'analyse historique et sociologique des conditions et les effets de l'exposition de ces banquiers soviétiques expatriés à une culture épistémique « capitaliste » sur l'évolution du secteur bancaire russe constitue l'objetif général de la recherche. Ce retour sur l'histoire propose un récit en rupture avec le modèle binaire et téléologique menant de la Guerre froide à la « transition vers le marché» et offre des pistes pour comprendre l'évolution des banques russes à forte participation étatique, ainsi que le poids de la globalisation financière dans la politique nationale russe contemporaine. Retracer l'histoire du principe de "défense des intérêts monétaires", mission fondamentales de la Banque du commerce extérieur soviétique et de ses employés, et l'interprétation idéologique qui en est faite, ainsi que sa mise en oeuvre pratique permet d'analyser ce que signifie la sécurité financière et monétaire pour l'Union soviétique au sein d'un système financier en pleine expansion et mondialisation. La permanence de certains cadres et de certaines épistémologies des mondes financiers permettent d'établir des continuités jusqu'à la période contemporaine.
Projects
Coopérer ou collaborer à travers les lignes "ennemies": ruptures, continuités et réagencements des réseaux et liens économiques dans la région du conflit en Ukraine orientale.
Ce projet, financé par une bourse post-doctorale du Centre Marc Bloch, étudie sur le terrain la transformation des pratiques de commerce transfrontalier des populations et entreprises dans la région du Donbass dans le contexte de la guerre opposant le gouvernement ukrainien aux zones sous contrôle séparatiste soutenu par Moscou. L'apparition de la ligne de front sur ce territoire autrefois uni et homogène du point de vue du tissu administratif et économique a entrainé l'adaptation des anciens réseaux (marchés, produits, chaînes de production et de commercialisation) et d'infrastructure qui sous-tendent ces activités (transport, eau, électricité). L'observation par une méthode anthropologique des circulations et circuits économiques dynamiques et plus ou moins informels vise à mieux comprendre l'économie de guerre dans un contexte micro-sociologique, ainsi que son intégration à l'économie à échelle mondiale.
Coopérer ou collaborer à travers les lignes "ennemies": ruptures, continuités et réagencements des réseaux et liens économiques dans la région du conflit en Ukraine orientale.
Publications
Book
Lambroschini S. (2014) Les Ukrainiens, ed. Ateliers Henry Dougier, Paris, 2nd edition 2016.
Chapters
Lambroschini S. & Raviot, J.-R. (2016), "Post-Empire. La Russie au miroir de son voisinage" Raviot J.R. Russie : vers une nouvelle guerre froide? La Documentation française. 2016.
Lambroschini, S. (2014). « La Genèse du bankir: la valorisation de l'expérience du capitalisme au sein de l'élite soviétique (1974-1991) ». Zielinski, Raviot. Les élites En Question: Trajectoires, Réseaux et Enjeux de Gouvernance. P. Lang.
Lambroschini, S. (2014). « La grande famine en Ukraine: la ritualisation de la mémoire du Holodomor par le pouvoir». Les lieux de mémoire victimaire. Ed. Champ Vallon, coll. Epoques, 2011. Coll.
Lambroschini, S. (2008) "Caviar", "Chernobyl", "Television", "The Great Patriotic War". Dictionnaire de la Russie, Ed. Larousse. Coll.
Articles
2018. "Ukraine: une politique de réforme prise entre deux feux". Annuaire RAMSES. Institut Français des relations internationales.
2018. "In the Borderlands of War of Eastern Ukraine. Making borders by mapping needs and social practices", in: TRAFO – Blog for Transregional Research, 07.02.2018, https://trafo.hypotheses.org/8928
Eckert, D. Lambroschini S. (2017) La ligne de démarcation entre séparatistes du Donbass et reste de l'Ukraine. Mappemonde. http://mappemonde.mgm.fr/119lieu1/ N119, 01/2017
Lambroschini, S. (2016). "Porochenko et les oligarques" CERI-Alternatives économiques. Hors-série N18 January.
Lambroschini, S. (2014) "Civiliser l'oligarchie, une condition à la stabilisation de l'Etat". Revue de l' Institut des Recherches stratégiques de l'Ecole militaires, 03/2014.
Lambroschini, S. (2011) "Ukraine Falling Prey to Russian Colonisation?" Robert Schuman Foundation Policy Paper N217, 10/2011.
Lambroschini, S. (2008). "Genèse, apogée et métamorphoses du présidentialisme clientéliste en Ukraine" Revue d'Etudes comparatives Est-Ouest, 2008, vol.39, N39-2, pp 117-148.