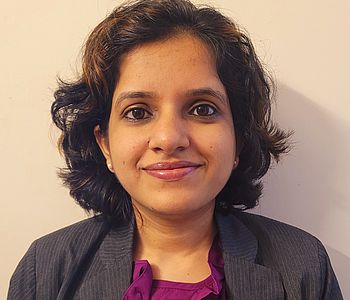 Biography
Dr. Dhanasree Jayaram is a Research Fellow at Centre Marc Bloch (CMB) and Guest Researcher at Freie Universität Berlin – under the Alexander von Humboldt Foundation's International Climate Protection Fellowship (for postdocs) 2022-23. She is an Assistant Professor, Department of Geopolitics and International Relations, and Co-coordinator, Centre for Climate Studies, Manipal Academy of Higher Education (MAHE), Karnataka, India. She is also a Research Fellow, Earth System Governance; Member, Climate Security Expert Network; and Member, Planet Politics Institute. She holds a PhD in Geopolitics and International Relations from MAHE. She pursued a visiting fellowship (Erasmus Mundus – short-term PhD) at Leiden University, the Netherlands during 2014-15; and a postdoctoral fellowship at the University of Lausanne, Switzerland, under the Swiss Government Excellence Scholarship during 2018-19. She managed a project of adelphi (Berlin) on "Climate Diplomacy", sponsored by the German Federal Foreign Office during 2015-20. Her primary fields of interest include climate politics and diplomacy, environmental security and military, regional environmental policy in Asia, and environmental peacebuilding.
Climate diplomacy and the role of gender in EU and South Asian climate policies
The European Union has concentrated major climate diplomacy efforts on South Asia. Its eight countries are perceived as one of the most vulnerable regions worldwide. Although climate change eventually affects everyone, some population groups suffer more than others. Women for instance, are disproportionately affected: mental health, food security, and sanitation are only a few of the areas where this reveals itself. In the context of EU policies, there are multiple attempts to promote gender equality and to establish peaceful as well as sustainable societies. However, the desired gender policy mainstreaming is particularly poor when it comes to climate change. The research project involves an assessment of the EU's gender mainstreaming efforts with a focus on the representation of gender in climate diplomacy. In addition, it intends to determine that effects feminist climate diplomacy would have. With her main work concentrating on the EU, she will shift her focus to the European Union's international development cooperation, examining the role of gender in European climate diplomacy toward South Asian countries. Her research could generate valuable outcomes for parties working on gender and climate change.