Dr. Insa Breyer
| Associated Researcher
Former Member
Centre Marc Bloch, Friedrichstraße 191, D-10117 Berlin
---
Home Institution : Université Libre de Berlin, Université Jules Verne, Picardie | former Department : Referat Wiss. Nachwuchs / Viadrina C. f. Grad. St.

Biography
Dr. phil. Insa Breyer ist Politikwissenschaftlerin. Sie hat im April 2010 ihre Dissertation verteidigt (summa cum laude/très honorable avec félicitations de la jury à l'unanimité) und diese unter dem Titel "Keine Papiere - keine Rechte? Die Situation irregulärer Migranten in Deutschland und Frankreich" (http://www.campus.de/isbn/9783593394978) veröffentlicht. Nach ihrem Studium der Politikwissenschaft (Otto-Suhr-Institut/FU-Berlin und IEP-Lyon) schrieb sie ihre Dissertation als co-tutelle an der Freien Universität Berlin (Otto-Suhr-Institut für Politikwissenschaften) und der Université Jules Verne, Picardie (CURAPP), gefördert durch das Centre Marc Bloch und die Hans-Böckler-Stiftung. Insa Breyer arbeitet bis heute im BMBF-Forschungsprojekt "Phantomgrenzen in Ostmitteleuropa", zuvor war sie im BMBF-Forschungsprojekt "Die vergangene Zukunft Europas" tätig, beide am Centre Marc Bloch.

Scholarship
since 2007 PhD-sholarship Hans-Böckler-Stiftung, 2005/2006 PhD-sholarship, CMB/BMBF
Researchtopic
Migration, Human Rights (PhD-Project: "Sans-papiers" and "Illegale" in France and Germany)
Title of thesis
"Sans-papiers" and "Illegale" in France and Germany
Institution of thesis
Europa-Universität Viadrina
Supervisor
Directeur de thèse en Allemagne: Prof. Dr. Wolf-Dieter NarrDirectrice de thèse en France:       Prof. Dr. Pascale Laborier
Projects
- "Irreguläre" Migration in Deutschland und Frankreich (Buch erschienen)
- Phantomgrenzen in Ostmitteleuropa (www.phantomgrenzen.eu)
- DFG-Netzwerk (2011 bewilligt): Population, Knowledge, Order, Change: Demography and Politics in the Twentieth Century in Global Perspective. Mitglied der bewilligten Core-Group.
Organisation of Events
Regelmässige Veranstaltungen der Forschungsgruppe "Migration, Territorium, Gesellschaft" am Centre Marc Bloch

29.06.2010, Berlin:
Ausgrenzung – Kontrolle – Konflikt. Vergleichende und interdisziplinäre Perspektiven", am Centre Marc Bloch
23.-24.06.2010, Berlin:
Les savoirs de gouvernement à la frontière entre "administration" et "politique" France-Allemagne, XIXe-XXe. Internationales Colloquium im Rahmen des Projektes MOSARE.
18.-19.02.2010, Berlin:
"Phantomgrenzen" in Ostmitteleuropa. Workshop zum Aufbau eines Kompetenznetzwerkes im Rahmen des gleichnamigen BMBF-Projektes (Vorphase).


Miscellaneous
02/2007-06/2008:
Freie Mitarbeit an der Ausstellung "Global Alien" (29.02.-27.04.2008 im Kunstraum Kreuzberg/Bethanien in Berlin) sowie an dem Katalog.
01/2004-09/2005:
Mitglied der Arbeitsgruppe "MOV!NG ON" der Neuen Gesellschaft für Bildende Kunst/NGBK e.V. Kuratierung und Realisierung einer Ausstellung in Berlin-Kreuzberg (August/September 2005) sowie einer Publikation zur politisch-künstlerischen Auseinandersetzung mit Grenzen und Migration.

Activities
Interviews:
Zur Ausstellung MOV!NG ON, 12. August 2005
http://www.freie-radios.net/10025

Zum "journée sans immigrés", 1. März 2010
http://www.dw-world.de/popups/popup_single_mediaplayer/0,,4816045_type_audio_struct_11563_contentId_2871173,00.htm
Keine Papiere - keine Rechte? Die Situation irregulärer Migranten in Deutschland und Frankreich
October 03, 2011
Insa Breyer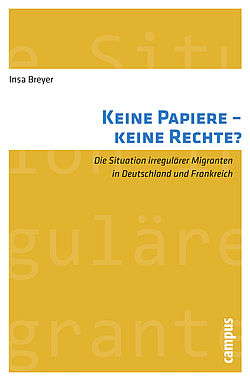 Edition:
Campus Verlag
ISBN:
978-3593394978
Viele Flüchtlinge kommen ohne Papiere nach Europa. In Frankreich heißen sie Sans-papiers, in Deutschland schlicht »Illegale«. Beide Bezeichnungen verweisen darauf, dass es diese Migranten aus staatlicher Sicht gar nicht geben dürfte – und doch befinden sie sich auf dem jeweiligen Territorium. Insa Breyer untersucht die rechtlichen Bedingungen und die Verhältnisse, unter denen sie leben. Sie hat viele von ihnen interviewt, sich die Unterkünfte angesehen, die medizinische Versorgung und ihre Kontakte zur Bevölkerung. Ihr Fazit: Die Bedingungen für die Flüchtlinge sind in Deutschland und Frankreich zwar unterschiedlich, marginalisiert und ausgeschlossen sind sie aber in beiden Ländern. Hier ist die europäische Staatengemeinschaft noch weit davon entfernt, jene humanitären Ideale einzulösen, die sie nach außen vermittelt.