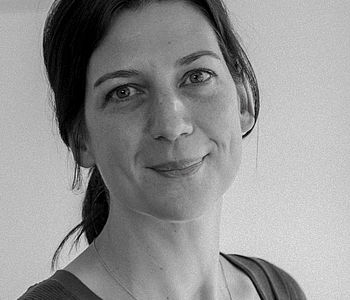 Home Institution : Université Paris 1 Panthéon-Sorbonne | Position : Maîtresse de conférences | Disciplines : Philosophy |

Biography
Katia Genel is an associate professor and doctor of philosophy. After completing a thesis in philosophy on the question of authority at the Frankfurt School, conducted at the Université de Rennes 1 and in co-supervision with the University of Frankfurt/Main (Institut für Philosophie and Institut für Sozialforschung), she was nominated as a senior lecturer in German philosophy at the Université de Paris I Panthéon-Sorbonne. She is affiliated to the Center for Research on Modern Philosophies of the Sorbonne (Hiphimo). She was a member of the ANR/DFG CActuS project (Relevance of Criticism, Theory of Society, Sociology and Social Criticism in France and Germany, directed by Gérard Raulet and Axel Honneth between 2013 and 2016).
Her research focuses on the divergent critical approaches to society and their methodological issues. She combines a historical perspective on the tradition of the "Frankfurt School," the study of its sources in Hegelian idealism and Marxist materialism, from its dialogue with the social sciences to its more contemporary developments (as in Habermas and Honneth), to a more epistemological perspective, centred on the study of models of criticism and inter-disciplinarity. Her research topics are German philosophy, social and political philosophy, notably critical theory, and the epistemology of social sciences.
Social Pathologies. Reflections on Social Philosophy's Presuppositions and Political Implications
The project focuses on recent theorizing in social philosophy, which have set themselves the task of a "diagnosis of social pathologies" (notably Honneth), and which intends to confront them with French philosophies concerning the norm (Foucault but especially Canguilhem) that have critically enlightened the transfer of concepts from the vital to the social: the French philosophers make critical use of the pair the normal and the pathological, and seek to think together the phenomena of normalization and the processes of creation of vital and social norms. These divergences between French and German conceptions need to be situated in the context of the history of the emergence of sociology in France and Germany; moreover, on a methodological level, the comparison will have to evaluate the developments in social philosophy by identifying the implications of the reference to the pathology and to the more discreet and problematic one of social health in order to grasp the issues at stake in terms of the conception of politics and of the model of criticism.
Axel Honneth, Jacques Rancière - Anerkennung oder Unvernehmen?
June 01, 2021
Katia Genel
, Jean-Philippe Deranty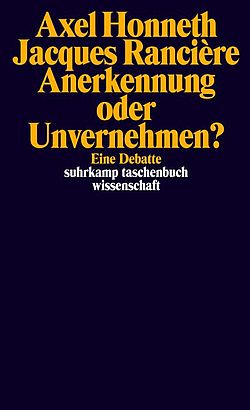 Monographie
Taschenbuch wissenschaft 2233
Edition:
Suhrkamp
Collection:
Taschenbuch wissenschaft 2233
ISBN:
978-3-518-29833-6
Axel Honneth, Jacques Rancière
Anerkennung oder Unvernehmen?
Eine Debatte
Herausgegeben von Katia Genel und Jean-Philippe Deranty
Anerkennung steht im Zentrum von Axel Honneths einflussreicher Theorie des Sozialen; das Unvernehmen bildet die Grundlage von Jacques Rancières nicht minder wirkmächtiger Theorie der Politik. Für Honneth ist Rancières Konzeption des Politischen realitätsfern und zu stark auf Gleichheit fixiert; laut Rancière arbeitet Honneths Theorie der Anerkennung mit falschen Vorstellungen von Subjektivität und Identität. Gemeinsam überlegen sie, welche Gestalt eine kritische Theorie der Gesellschaft heute annehmen muss. Eine höchst produktive Debatte zwischen zwei gegensätzlichen Vertretern des europäischen postmarxistischen Denkens.
Publications
Monographien:
Katia Genel, Hannah Arendt. L'expérience de la liberté, Paris, Belin, 2016.
Katia Genel, Autorité et émancipation. Horkheimer et la Théorie critique, Paris, Payot, « Critique de la politique », 2013.
Herausgeberwerke:
Katia Genel (Hg.), La Dialectique de la raison: sous bénéfice d'inventaire, Paris, Editions de la maison des sciences de l'homme, 2017.
Katia Genel, Jean-Philippe Deranty (Hg.), Axel Honneth & Jacques Rancière. Recognition or Disagreement: A Critical Encounter on the Politics of Freedom, Equality, and Identity, Columbia University Press, 2016.
- Avec Agnès Grivaux, Frank Müller et Salima Naït Ahmed, Dossier « 'Heureux' comme Adorno en France ? », in Recherches germaniques, 2019.
- Katia Genel, Lucie Wezel et Jean-Baptiste Vuillerod (dir.), Retour vers la nature ? Questions féministes, Lormond, Bord de l'eau, 2020.
- Katia Genel, Jean-Philippe Deranty (dir.), Reconnaissance ou mésentente ? Un dialogue critique entre Jacques Rancière et Axel Honneth, Paris, Éditions de la Sorbonne, 2020.
Aufsätze:
- "The Norm, the Normal and the Pathological: Articulating Honneth's Account of Normativity with a French Philosophy of the Norm (Foucault and Canguilhem)", Critical Horizons, 2019.
- "Die ambivalente Logik der Emanzipation. Spannungsverhältnisse zwischen der Frankfurter Schule und Jacques Rancières kritischer Theorie", in Alex Demirovic, Susanne Lettow, Andrea Maihofer (Hrsg.), Emanzipation. Zu Geschichte und Aktualität eines politischen Begriffes, Münster, Westfälisches Dampfboot, 2019, p. 37-56
- « Les logiques ambivalentes de l'émancipation », revue Prismes, n°1, 2018.
- « La fin de l'individu ? Adorno lecteur de Kant et de Freud », Cahiers philosophiques 2018/3 (n° 154).
- « Critique de la domination et théorie de la démocratie. Retour sur la divergence entre la première et la deuxième génération de l'école de Francfort », in Dialogues avec Jürgen Habermas, I. Aubert et J.-F. Kervégan (dir.), Paris, CNRS Editions, 2018.
- « Cultura e Autorità: Il cambiamento del pensiero di Max Horkheimer negli anni '40 » in Arte Nuova e cultura di massa, Nicola Emery (dir.), Mimesis, 2018, p. 87-101.
- « Prendre la parole et être entendu. Lectures de l'analyse arendtienne de l'espace public par Seyla Benhabib et Iris Marion Young », Raisons politiques 2017/4 N° 68, p. 47-63.
- « Les figures de la critique dans l'École de Francfort. Normativités du social, rationalité et irrationalité », Jurisprudence. Revue critique, « Le droit, entre théorie et critique », 2017, p. 61-73.
- « La dialectique de la raison, contribution à une théorie du totalitarisme ? État autoritaire, État totalitaire et non-État » in K. Genel (éd.), La Dialectique de la raison: sous bénéfice d'inventaire, Paris, Editions de la maison des sciences de l'homme, 2017.
- « La Dialectique de la raison : la fin du marxisme ou sa discussion critique ? », in C. Colliot-Thélène (ed.), Que reste-t-il de Marx ?, Rennes, PUR, 2017, p. 59-75.
- « Les théories de la reconnaissance face au problème de l'assujettissement. Trois figures de la servitude chez Axel Honneth, Judith Butler et James C. Scott », in Donner, reconnaitre, dominer. Trois modèles en philosophie sociale, Louis Carré et Alain Loute (dir.), Presses du Septentrion, collection « Philosophie », 2016.
- « Horkheimer : une critique originale de la domination », Matérialismes, culture et communication, F. Granjon (dir.), Coll. Matérialismes, Presse des Mines, 2016, pp. 203-219.
- « École de Francfort et freudo-marxisme: sur la pluralité des articulations entre psychanalyse et théorie critique », Actuel Marx, 2016/1, n° 59, p. 11-25.
- « La critique de l'autorité en démocratie. Quelques pistes ouvertes par Weber, l'École de Francfort et la sociologie critique », Revue Raison présente, 2015, p. 25-33.
- « Autorité et domination chez Honneth : quelles perspectives critiques », in Capitalisme et démocratie : autour de l'œuvre d'Axel Honneth, C. Bouton et G. le Blanc (dir.), Ed. Bord de l'eau, 2015.
- « L'École de Francfort et la politique : la place de Marcuse entre Horkheimer, Adorno et Neumann », Illusio, « Théorie critique de la crise, Du crépuscule de la pensée à la catastrophe », Le Bord de l'eau, n°12/13, 2014.
- « Psychanalyse et Théorie sociale : la psychanalyse est-elle un facteur d'émancipation ? », Revue Contretemps, mars 2014 (en ligne : http://www.contretemps.eu/interventions/psychanalyse-th%C3%A9orie-sociale-psychanalyse-est-elle-facteur-%C3%A9mancipation)
- « L'autorité des faits : Horkheimer face à la fermeture des possibles », revue Tracés, 2013/1, n° 24, p. 107-119.
- « Le problème de l'autorité : l'École de Francfort à la lumière des analyses d'Arendt », in Pierre-François Noppen, Iain Macdonald, Gérard Raulet (dir.), Les Normes et le possible : héritage et perspectives de l'École de Francfort, Paris, Éditions de la Maison des sciences de l'homme, coll. Philia, 2013.
- « Devenir de l'analyse freudienne de la masse dans l'École de Francfort » (co-écrit avec Julia Christ), in M. G. Wolkowicz, T. Moreau, A. Nouss et G. Rabinovitch (dir.), La Psychologie de masse aujourd'hui, Paris, éd. des Rosiers, coll. Schibboleth – Actualités de Freud, 2012, p. 79-93.
- « Die sozialpsychologische Kritik der Autorität in der frühen kritischen Theorie Max Horkheimer zwischen Erich Fromm und Theodor W. Adorno », in M. Hawel (dir.), Doktorand_innen-Jahrbuch der Rosa-Luxemburg-Stiftung, Bd. 1, Berlin, Karl Dietz Verlag, 2011, p. 174-186.
- « Biopouvoir, biopolitique : de la description à la critique », in Médecine, Santé, Soin. Manuel Médecine et Sciences Humaines, Paris, Les Belles Lettres, 2011, p. 600-606.
- « Droit et politique dans la critique de la domination. Confrontation entre Horkheimer et les juristes Neumann et Kirchheimer », in H. Bentouhami, N. Grangé, A. Kupiec et J. Saada (dir.), Le souci du droit. Où en est la Théorie critique ?, Paris, Sens & Tonka, 2010, p. 43-60.
- « L'approche socio-psychologique de Horkheimer, entre Fromm et Adorno », Astérion, n° 7, juin 2010.
Traductions:
- Traduction de l'anglais de l'article d'Amy Allen "Reason, power and history: Re-reading the Dialectic of Enlightenment" paru dans Thesis Eleven, 2014, pp. 1-16.
- Traduction (avec J. Christ) de textes de Max Horkheimer, Gesammelte Schriften Bd. 12, Frankfurt/Main, Fischer, 1972 : Th. Adorno, M. Horkheimer, Le Laboratoire de la Dialectique de la raison, Paris, Editions Maison des sciences de l'homme, Philia, 2013.
- Traduction de l'allemand (avec I. Aubert) de l'essai de Jürgen Habermas, « Hat die Demokratie noch eine epistemische Dimension? Empirische Forschung und normative Theorie », Ach, Europa. Kleine Politische Schriften XI, 2008 pour la Revue Participations, 2012/4 et 2013/1.