Séverine Marguin
| Associated Researcher
Former Member
Centre Marc Bloch, Friedrichstraße 191, D-10117 Berlin
---
Home Institution : Leuphana Universität Lüneburg / EHESS - Centre Georg Simmel |

CV File
Scholarship
seit 01.2013 Stipendiatin des deutsch-französischen Doktorandenkollegs Unterschiede denken II (HU-EHESS)
03.2015-09.2015 Stipendiatin des Centre Marc Bloch
04.2011-11.2014 Stipendiatin der Heinrich-Böll-Stiftung
09.2010 - 02.2011 6-monatiges DAAD-Stipendium
Researchtopic
Artists collectives ; professional path ; Paris and Berlin ; art field ; biografical research ; capability approach
(cotutelle)
Title of thesis
Collectives of individualities. Visual Artists in the Contemporary Art Fields in Paris and Berlin
Summary of thesis
Zu Beginn des 21. Jahrhunderts ist der Strukturwandel der Arbeit (Böhle, Voß, Wachtler, 2010) in den Feldern der kulturellen Produktion (Bourdieu, 1992) bewusst und sichtbar geworden wie vielleicht nie zuvor. Dabei offenbart die Analyse der Konsequenzen dieser Transformation von Kunst- und Kulturberufen vor allem eine wachsende Prekarität der sozialen und wirtschaftlichen Bedingungen. Die öffentliche Hand hat für die existenzielle Sicherung (Paugam, 2009; Castel, 2009) der Künstler und Kulturarbeiter bisher keine angemessene Antwort gefunden (Beck, 1998). Gleichzeitig hat aber die zunehmende Kommerzialisierung und Professionalisierung des Sektors nicht zu einer Stabilisierung geführt, sondern vielmehr zu einer «vertikalen Desintegration des Arbeitsmarktes» (Menger, 2009).

Es stellt sich hier die Frage inwieweit eine Steuerung dieser Unsicherheit (Menger, 2009) durch kollektiv initiierte Formen der Selbstorganisation möglich erscheint, die von den Akteuren der Felder der kulturellen Produktion selbst getragen werden. Hier werden am Beispiel beruflicher Werdergänge von in einer Kollektivform involvierten Bildenden Künstlern, unterschiedliche kollektive Strategien analysiert.

 
Supervisor
Prof. Dr. Ulf Wuggenig / Prof. Dr. Bénédicte Zimmermann
Projects
Co-Organisatorin der AG "Analyser et comparer les sciences sociales et les effets transdisciplinaires depuis 1989"
Co-Organisatorin des Forschungsseminar vom Centre Marc Bloch (WS 2015-2016)
Organisation of Events
Organisation einer internationalen und interdisziplinären Tagung zu "Art contemporain et marges / Marginales und Marginalität in der zeitgenössischen Kunst" am Centre Marc Bloch vom 9.-11.10.13
Activities
Mitorganisatorin des Ciné-Clubs am Centre Marc Bloch (2010-2013)
Positionality Reloaded: Debating the Dimensions of Reflexivity in the Relationship Between Science and Society
September 30, 2021
Séverine Marguin
,
Cornelia Schendzielorz
, Juliane Haus, Anna Juliane Heinrich, Antje Kahl, Ajit Singh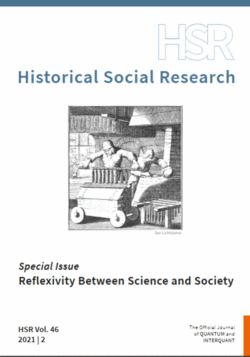 Sammelband
Historical Social Research
Edition:
gesis Leibniz-Institut für Sozialwissenschaften
Collection:
Historical Social Research
ISBN:
0172-6404
It cannot be denied that reflexivity has become a must in social science methodological discourse in recent decades. The uses and functions of reflexivity in the research process have been well addressed historically, be it with regard to researchers' subjectivity, their perspectivity shaped by social origin and biographical life path, or their possible asymmetrical power relations with investigated actors. Nevertheless, we see an urgent need to discuss these issues. We claim that the practice of reflexivity, seriously shaken by the current transformation of (the understandings of) academic knowledge production, has become a challenging duty to fulfill. There is no straight and easy answer to the big questions of "for whom" and "for what purpose" do we produce "what kind of" knowledge and "how." Struggling for an appropriate positioning within global societal developments, we dedicate this special issue to the search for a critical, and the exploration of a lucid, (self-)reflection of academic research. In this respect, this special issue, Positionality Reloaded: Debating the Dimensions of Reflexivity in the Relationship Between Science and Society, sets out to explore how coexisting yet diverse conceptions of academic research and knowledge production can be reflexively considered and related to each other from an epistemological, ethico-normative, and ontological point of view.
Publications
Marguin S., « Une brève histoire du concept de galerie : une trajectoire sémantique révélatrice de la structuration du champ de l'art ? », in: Vernerey D. und Ivanoff H. (Hrsg.), Les artistes et leurs galeries. Réception croisée. Paris Berlin. 1900-1950, Presses Universitaires de Rouen 2016 (im Erscheinen)
Marguin S. « Bourdieu et l'art contemporain : des réceptions françaises et allemandes inégales », in Fleury L. und Bellavance G. (Hrsg.), Champs mondes scènes au prisme des réseaux, L'Harmattan Paris 2016 (im Erscheinen)
Bremer M., Barbisan L., Boichot C., Marguin S. (Hrsg.), « Kapitalisierung des Marginalen », Themenheft in: kritische berichte, Herbst 2015 (im Erscheinen)
Marguin S., « Die Freie Kunstszene Berlins und die Pluralisierung der Autonomie », in: Zahner N. und Karstein U. (Hrsg.), Autonomie der Kunst? Zur Aktualität eines gesellschaftlichen Leitbildes, Transcript Verlag (im Erscheinen)
Marguin S., « Project Spaces in the Berlin Art Field », in: Albrecht D., Schmid A., Zoitl M. (Hrsg.),
Dreams of Art Spaces Collected, IGBK Berlin, 2015
Marguin S., « La politique culturelle berlinoise de soutien à la création plastique contemporaine : un réajustement », in: Pôle Sud, Vol. 42, 2014

Marguin S. und Mamoulaki C., « L'appropriation des friches culturelles par les populations locales », in: Lucchini F. (Hrsg.), De la friche industrielle au lieu culturel, Presses Universitaires de Rouen, 2014
Marguin S., « Les temporalités de la réussite: le moment charnière des quarante ans chez les artistes plasticiens », in: SociologieS, 2013
Marguin S., « Projekträume : Vitales aber fragiles Herz der Kunstszene», in: Vonhundert, Vol.100, 2012,
Marguin S., Interaktive Karte über die Berliner Projekträume seit 1970 (www.projektraeume-berlin.net/interaktivekarte), 2011