Publications
---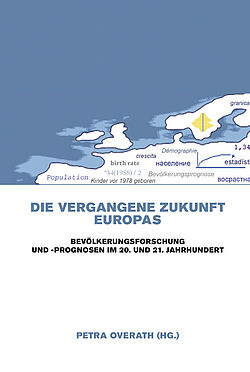 Die Vergangene Zukunft Europas - Bevölkerungsforschung und -Prognosen im 20. und 21. Jahrhundert
December 31, 2010 Edition:
Böhlau Verlag
ISBN:
987-3-412-20636-9
Bevölkerungskonstruktionen sind folgenreich. Sie konnten seit dem 20. Jahrhundert in Europa Grundlage der Erfassung, Verschiebung und Vernichtung von Bevölkerungsgruppen sein. Unter anderen Vorzeichen zirkuliert auch im 21. Jahrhundert komplexes Wissen über die Bevölkerungen Europas: Wie wird sich zukünftig deren Fruchtbarkeit im Vergleich mit anderen Teilen der Welt entwickeln? Wie ist die Bevölkerungsentwicklung mit den Sozialsystemen vereinbar? Wer gehört überhaupt zu Europa? Die Autoren und Autorinnen untersuchen, wie demografische Wissensordnungen europäische Selbstverständnisse geprägt haben und auch heute mitbestimmen. Dabei wird die historische Tiefenschärfe von Bevölkerungsfragen und Europavorstellungen deutlich: die "vergangene Zukunft Europas" ist von erstaunlicher Aktualität.
Mit Beiträgen von Regula Argast, Ursula Ferdinand, Heinrich Hartmann, Ian Innerhofer, Heike Kahlert, Patrick Kury, Martine Mespoulet, Arnaud Lechevalier, Petra Overath, Daniel Schmidt, Maximilian Schochow, Anne Seitz und Annett Steinführer.
---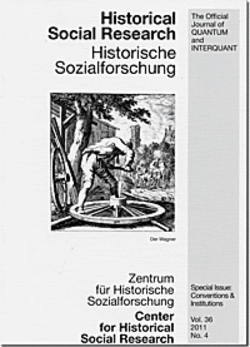 Historical Social Research - Historische Sozialforschung
December 31, 2010
Robert Salais , Rainer Diaz-Bone


Sozialforschung
Historische Social Research
Collection:
Historische Social Research
Abstract: »Économie des conventions und die Geschichte von Ökonomien.
Perspektiven für einen transdisziplinären Ansatz in der Wirtschaftsgeschichte.
«. This introduction and the contributions of the HSR issue intend to develop
and to demonstrate the potentialities of the economics of convention (EC) for a
transdisciplinary approach to the history of economies. "Convention" has become
a core concept in the renewal of French social sciences from structuralism
towards pragmatism. Conventions are interpretative schemes for action
and coordination that persons and actors use in situations under conditions of
uncertainty. Through repeated interaction they become an intimate part of the
history, incorporated into justifications, behaviours and social objects like institutions.
In contrast to neoclassic economics and to new historical institutionalism,
the EC starts from assumptions of a plurality of economic frameworks
of action, of the socio-historical construction of concepts, categories, and data.
It rejects dichotomies, adopts a broad conception of the economy, conceives
institutional change as the change of the "conventional" foundations for the
pragmatic use and interpretation of institutions. Its methodology is that of a
"complex pragmatist situationalism", dedicated to a comprehensive approach
aiming at reconstructing the internal going-on of historical processes. This special
issue offers a set of contributions on: the origins of the approach, its methodological
standpoint, its possible developments towards a sociology of engagement
or hermeneutical concerns, several applications on economic history
(notably about conventions of quality and of labor).
Keywords: Economics of convention, institutions, pragmatism, economic action,
situation, economic history, new historical institutionalism, justifications,
plurality.
---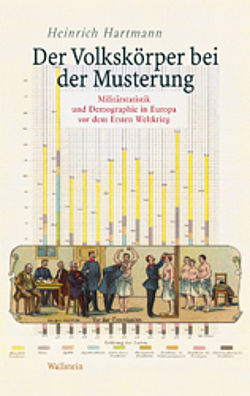 Der Volkskörper bei der Musterung. Militärstatistik und Demographie in Europa vor dem Ersten Weltkrieg.
December 31, 2010 Collection:
Wallstein Verlag
ISBN:
978-3-8353-0835-0
Ende des 19. Jahrhunderts entstand in Europa das Bewusstsein für die wissenschaftliche Bedeutung der Bevölkerung, gerade auch in Hinblick auf die »Wehrkraft« einer Nation. Damit wurde die medizinische Musterung der Rekruten auch zu einem Moment der Untersuchung der ganzen Bevölkerung. Größe, Gewicht und Brustumfang der Rekruten interessierten nicht nur das Militär selbst. Statistiker, Mediziner und Anthropologen stürtzten sich ebenso auf die männlichen »Militärbevölkerung« als Datenlieferant. Die Frage, ob und wie man über die Statistiken Rückschlüsse auf die Bevölkerungsentwicklung ziehen konnte, wurde zu einem frühen Kristallisationspunkt demographischer Wissenschaften. Heinrich Hartmann analysiert die Rolle des Militärs in der Entstehung solcher Diskurse und Wissenspraktiken vor dem Ersten Weltkrieg. Verglichen werden dabei Fallstudien aus Frankreich, Deutschland, der Schweiz und anderen europäischen Ländern. Deutlich wird auch die grenzüberschreitende Vernetzung der demographischen Experten: Transnationale Wissenszirkulation und ein nationalistischer Militarismus schlossen sich vor 1914 nicht aus, sondern bedingten sich häufig gegenseitig.
---
"Die Historische Sondersammlung : Soziale Arbeit und Pflege. Un centre de documentation et une bibliothèque spécialisés dans l'histoire du soin et du travail social à Francfort", Revue de l'Institut français d'histoire en Allemagne, n°3, 2011, p. 50-55
December 31, 2010
---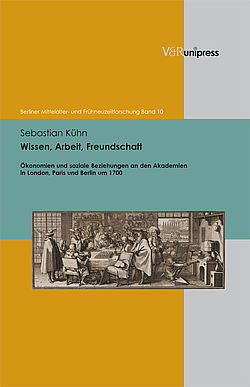 Wissen, Arbeit, Freundschaft - Ökonomien und soziale Beziehungen an den Akademien in London, Paris und Berlin um 1700
February 01, 2010 Collection:
Berliner Mittelalter- und Frühneuzeitforschung Band 10
Die Praxis der Naturforschung in der Frühen Neuzeit hatte viel mit kollektiven Formationen zu tun, mit Arbeit etwa, ebenso mit Feindschaft oder Freundschaft. Ausgehend von der Royal Society in London, der Académie des Sciences in Paris und der Berliner Societät der Wissenschaften untersucht dieser Band die kulturellen Praktiken und sozialen Handlungsmuster naturforschender Wissensproduktion. Im Zentrum stehen die Handlungslogiken der an der Wissensproduktion Beteiligten. Was letztendlich Wissen sein sollte, wie es herzustellen und zu beglaubigen sei, wurde nicht allein von einem Expertenkreis bestimmt, sondern beständig ausgehandelt. Beziehungslogiken spielen daher eine große Rolle für die Konstitution von Wissen und Wissensobjekten. Die Wissenschaftsgeschichte wird damit geöffnet für eine Sozial-, Wirtschafts- und Kulturgeschichte, in der die analytischen Kategorien (was ist Wissen, was ist ein Gelehrter, was ist eine wissenschaftliche Institution) historisiert und dynamisiert werden.
---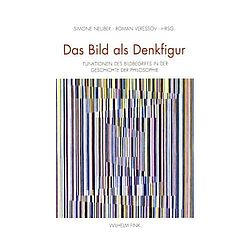 "Henri Bergson und Maurice Merleau-Ponty - Das Bild zwischen Phänomenologie und Ontologie", in Neuber, Simone - Veressov, Roman (éd.), Das Bild als Denkfigur: Funktionen des Bildbegriffs in der Philosophiegeschichte von Platon bis Nancy, München: Wilhelm
December 31, 2009 Essay aus Sammelband

Edition: Fink
ISBN: 978-3770549658


---
"Figures de l'homme de L'Évolution créatrice aux Deux Sources", in Bankov, Kristian – Gradev, Vladimir (éd.), Vers Les Deux Sources de la morale et de la religion. Actes du colloque de Sofia, 6 et 7 novembre 2009, Nouvelle Université Bulgare, 2010.
December 31, 2009 ISBN:
978-954-535-614-8
http://ebox.nbu.bg/berg2/sk5.html
---
Bergson, la tecnica, la guerra. Una rilettura delle Due Fonti
October 31, 2009
Monographie
Hypertera
Edition:
Bononia Universuty Press
Collection:
Hypertera
ISBN:
8873954863
Gagnant du Prix Antonella Musu 2011 (section auteurs de moins de 37 ans du Prix Philosophique Castiglioncello).
---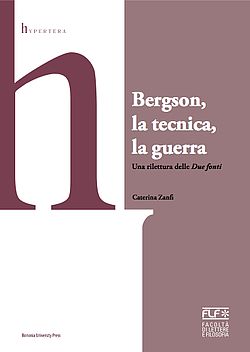 Bergson, la tecnica e la guerra. Una rilettura delle Due fonti
December 31, 2008 Edition: BUP
Collection: Hypertera