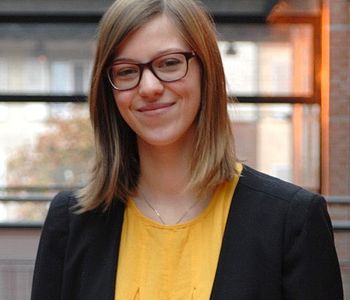 Position : Research assistant / PhD student | Disciplines : Political Science |

Biography
Claire Gauthier has been a research assistant since the end of 2017 at the European University Viadrina in Frankfurt on the Oder, located on the German-Polish border, one hour away from Berlin. In this capacity, she supports the activities of the chair that employs her (Kelso professorship for comparative law, Eastern European business law and European legal policy) and the Institute for European Studies.
After studying at the Institut for Political Studies in Strasbourg, Uppsala University in Sweden (Erasmus) and the Viadrina University, she graduated with a Franco-German Master's degree in European Studies, specialising in European politics and public affairs.
ConsEumer: the social construction of the consumer-citizen in the EU energy transition
Due to climate change, the pressure to adapt behaviours and lifestyles is increasing for consumers and citizens in various fields (nutrition or mobility and energy). This PhD thesis project focuses on the transformation of the social role of energy consumers and citizens, i.e. the rights and duties, attitudes, values and behavioural patterns associated with this (these) status(es), in European policy between 2009 and 2019. 
---
The project assumes the social construction of these roles and approaches this transformation through the prism of actors engaged in the European decision-making process, in particular interest representatives, through the concepts of coalitions (advocacy/discursive) and public policy networks. In particular, the project seeks to invalidate or confirm the hypothesis of a second phase of energy transition and rupture around 2014-2016.
Inspired by political and sociological works related to governementality (Foucault, Dubuisson-Quellier) and to the European construction (sociology of actors, transparency, ambivalence of the Europeanisation process), the project tries to put these theoretical sources in parallel with the literature on sustainable transitions and thus to highlight the political dynamics of behavioural, cultural, techno-economic and political transformations of the European energy transition. 
In terms of methodology, the project is based on the analysis of networks and discourses of transparency data and position papers of interest representatives and institutional documents.
Publications
Scientific publications
Gauthier, C., & Lowitzsch, J. (2019). Outlook: Energy Transition and Regulatory Framework 2.0: Insights from the European Union. In Energy Transition – financing consumer co-ownership in renewables (pp. 733-765). Palgrave Macmillan, Cham.
Wokuri, P., Yalçın-Riollet, M., & Gauthier, C. (2019). Consumer (Co-) Ownership in Renewables in France. In Energy Transition – financing consumer co-ownership in renewables (pp. 245-270). Palgrave Macmillan, Cham
Non-scientific publications
Blayo, M. (2019, septembre 25). L'Union Européenne cherche un consensus sur les questions écologiques. Interview for the French daily newspaper La Croix. (last access: 06/06/2020)
Policy brief Energy communities in the 28 draft National Energy and Climate Plans, in cooperation with REScoop.eu (European federation of renewable energy cooperatives) and Friends of the Earth Europe (last access: 06/06/2020)