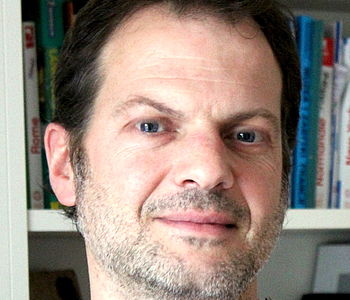 Home Institution : Centre Marc Bloch, Berlin | Position : Research Professor at CNRS / Directeur de recherche au CNRS | Disciplines : History , Political Science , Sociology |

Biography
Guillaume Mouralis is a Research Professor in history and sociology at the National Center for Scientific Research (CNRS, France). His research interests include the recent history of Germany, the history and sociology of law, post-war justice, purges and mass crimes trials.
After a doctoral research on the judicial purges of GDR officials in Germany before and after 1990, he turned his attention to the main Nuremberg Trial. This work resulted in a Habilitation (HDR), completed in December 2017. A revised version of this research was published by the Presses de Sciences Po in 2019 under the title Le moment Nuremberg. Le procès international, les lawyers et la question raciale [The Nuremberg Moment: The International Trial, the Lawyers and the US Racial Issue] (Series "History", 264 p.).
In his current research programme, entitled "Mobilizing International Law (19th - 21st century)", he examines the links between the subversive appropriations of international law and the construction of transnational causes. This project is based in particular on an in-depth investigation of the "citizens'" commissions of inquiry and "opinion" courts created from the 1920s to the 1960s.
His recent publications include Une épuration allemande. La RDA en procès, 1949–2004 (Paris: Fayard Publishing, 2008); Dealing with Wars and Dictatorships. Legal Concepts and Categories in Action (The Hague: Springer / Asser Press, 2014, co-edited with Liora Israël); "The Nuremberg Trials. New Perspectives on the Professions", special issue of Comparativ (co-ed. with M.-B. Vincent, vol. 26, n°4, 2017); as well as numerous articles in French, German and English.
CV File
Mobiliser le droit international. Appropriations subversives du droit, investissement de la forme procès et construction des causes transnationales (XIXe-XXIe siècles).
Mon programme de recherche actuel, initié en 2018, porte sur le rôle joué par le droit international au sens large dans la construction des causes militantes transnationales depuis le XIXe siècle. J'y examine, plus particulièrement, les appropriations subversives du droit international et de la forme procès dans les deux décennies qui suivent la Seconde Guerre mondiale. Outre ce volet, qui comprend une étude approfondie du Tribunal Sartre-Russell (1966-67), j'entends poursuivre ou engager plusieurs enquêtes secondaires diversement articulées au chantier principal. Ces enquêtes portent 1) sur les liens entre production du droit international, d'une part, et questions minoritaires, raciales, coloniales et impériales, d'autre part ; 2) sur l'espace socio-professionnel des juristes internationaux présents à Londres et Nuremberg de 1943 à 1946, dans le cadre d'une enquête prosopographique en cours ; 3) sur les réfugiés et les diasporas scientifiques aux États-Unis de 1933 à 1945 (à travers le cas des juristes centre- et est-européens).