Home Institution : Sciences Po Paris | Disciplines : Political Science |

Biography
Irina Mützelburg is a researcher in political science affiliated at the Centre de recherches internationales (CERI) in Paris, Triangle in Lyon and the Centre Marc Bloch in Berlin. Her research areas cover the sociology of international relations, the international transfer and circulations of norms and policies and the interdependencies between non-state and international actors. In addition, she is interested in the sociology of the post-communist state (public policy implementation, adaptation to instability, reliance on informality and improvisation) and in the language education policies in Eastern Europe. Finally, she studies migration and asylum policies in Ukraine and Europe as well as on the externalisation of migration control to the EU neighbourhood. She currently teaches European policies and political sociology at Sciences Po Lyon.
Title of thesis
Multi-Level Transfer of International Norms: Asylum Policies and Practices in Ukraine (1993-2015)
Summary of thesis
This thesis uncovers the importance of often overlooked actors and transfer channels by adopting a longitudinal and multi-level perspective on international norm and policy transfer. It examines the role of international organisations in the development of asylum policies and practices in Ukraine since the adoption of the first Law on Refugees. It shows how the action of international and domestic non-governmental organisations is interlinked with and differs from the sector-specific conditionality exercised by the European Union. In this manner, it enriches the findings on transfer from research that has mostly focused on top-down processes and political elite actors. It investigates the interactions and relations between state and non-state actors of the "transfer chain", revealing logics of dependence, delegation and control as well as processes of translation, support and resistance. Analysing the support and subtle forms of resistance to the legislative adoption of international norms at the Parliament, it demonstrates that adoption is shaped, to a large extent, by domestic politicians' pursuit of recognition and incentives by international organisations. Moreover, non-state actors seek to influence state practices by adapting their strategies to domestic resistance and structural obstacles, utilising confrontational and harmony-seeking, formal and informal, top-down and horizontal strategies. While norm entrepreneurs try to trigger the formalisation of certain changes, the effects of the transfer attempts on state practices remain heterogeneous and unstable. This thesis thus adds to transfer scholars' widespread findings regarding the weak application of norms.
Institution of thesis
Institut d'études politiques de Paris
Supervisor
Kathy Rousselet & Anne de Tinguy
Teaching and Learning Foreign Languages in Ukraine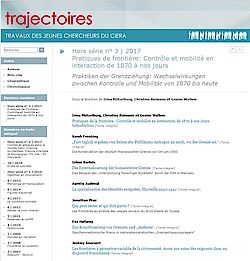 Le Hors-série n°3 (2017) de la revue en ligne Trajectoires (CIERA) vient de paraître sous le titre:
Pratiques de frontière: Contrôle et mobilité en interaction de 1870 à nos jours
Praktiken der Grenzziehung: Wechselwirkungen zwischen Kontrolle und Mobilität von 1870 bis heute
Ce numéro a été coordonné par Irina Mützelburg, Dr. Christina Reimann et Gesine Wallem. Les contributions sont le fruit du Junges Forum organisé en octobre 2015 sur le thème « Migrations et frontières : La construction de frontières par des pratiques administratives et sociales (des années 1880 à nos jours) ».
Accès au dossier : https://trajectoires.revues.org/2338
Contenu du numéro:
Irina Mützelburg, Christina Reimann et Gesine Wallem

Pratiques de la frontière : Contrôle et mobilité en interaction de 1870 à nos jours. Introduction [Texte intégral]

Sarah Frenking

"Fast täglich ergehen von Seiten des Publikums Anfragen an mich, wo die Grenze sei." [Texte intégral]

Die Konstruktion der deutsch-französischen Grenze vor Ort um 1900

Inken Bartels

Die Externalisierung der humanitären Grenze. [Texte intégral]

Das Beispiel der 'Unterstützung freiwilliger Rückkehr' durch die IOM in Marokko

Aurélie Audeval

La spatialisation des identités assignées, Marseille 1940-1942

[Texte intégral]

Jonathan Miaz

Qui peut rester et qui doit partir ?

[Texte intégral]

Les frontières au prisme des usages sociaux du droit d'asile en Suisse

Eva Hallama

Seuchenmedizinische Praxis in nationalsozialistischen "Grenzentlausungslagern"

Jérémy Geeraert

Les frontières à géométrie variable de la citoyenneté. Accès aux soins des migrants dans un dispositif d'assistance

[Texte intégral]
Publications
« Régime Migratoire / Migrationsregime ». Mobilität, Migration und Räumliche Neuordnung | Mobilités, Migrations, Recomposition des Espaces. hps://rm2.hypotheses.org/997. 2019.
2019. 'L'« empowerment » par des financements internationaux ? Comment les donateurs créent un secteur non-étatique en Ukraine'. Gouvernance Les financements communautaires aux marges de l'Europe - Sociologie des usages.
2019. 'The Role of EU and International Organizations' Strategies and Interdependencies in the Transfer of International Norms: The Case of Ukrainian Asylum Law'. In Policy Transfer and Norm Circulation: Towards an Interdisciplinary and Comparative Approach, eds. Laure Delcour and Elsa Tulmets. Routledge.
With Christina Reimann, and Gesine Wallem. 2017. 'Pratiques de la frontière : Contrôle et mobilité en interaction de 1870 à nos jours. Introduction' eds. Irina Mützelburg, Christina Reimann, and Gesine Wallem. Trajectoires. Travaux des jeunes chercheurs du CIERA (Hors série n° 3). https://trajectoires.revues.org/2339 (July 18, 2017).
2017. 'Monitoring an Asylum System in the EU Neighbourhood: The Reliance of the European Union on the Knowledge Production of UNHCR'. In Visions Croisées Autour Des Frontières Européennes : Mobilité, Sécurité et Frontières, eds. Beyza Tekin and Didem Danış. Istanbul: Editions de l'Université Galatasaray, 45–59.