Karsten Lichau
| Associated Researcher
Former Member
Centre Marc Bloch, Friedrichstraße 191, D-10117 Berlin
---
Home Institution : Max-Planck-Institut für Bildungsforschung | Position : Angegliederter Forscher |

Biography
Karsten Lichau ist Erziehungswissenschaftler und Historischer Anthropologe, sein Forschungsgebiet liegt am Schnittpunkt von Soziologie, Geschichte und Kulturwissenschaften. Nach dem Studium der Erziehungswissenschaft an der Freien Universität Berlin und der Université Paris VIII Vincennes - St. Denis war er Stipendiat des DFG-Graduiertenkollegs "Körper-Inszenierungen" an der Freien Universität Berlin. 2010 promovierte er mit einer literatur- und sozialgeschichtlichen Arbeit über den Schriftsteller Max Picard und dessen 'literarische Physiognomik'.
Sein aktuelles Forschungsprojekt widmet sich der politischen Kulturgeschichte der Schweigeminute. Am Centre Marc Bloch leitet er die Arbeitsgruppe "Europa als politischer Kommunikationsraum: Medien, Öffentlichkeiten, Gefühle".
CV File
Researchtopic
Historische Anthropologie der Sinne und des Körpers - sound history - Emotionengeschichte - Religion und Säkularisierung - Interkulturelle Pädagogik
Title of thesis
Menschengesichte. Max Picards literarische Physiognomik
Institution of thesis
Max-Plank-Institut für Bildungsforschung
Projects
- Eigenes Forschungsprojekt am Centre Marc Bloch:
"Eine politische Kulturgeschichte der Schweigeminute"

- Mitarbeit im Gemeinschaftsprojekt des Centre de Recherches interuniversitaires, expérience, ressources culturelles - EXPERICE - (Univ. Paris 8 & 13), der Freien Universität Berlin und des Deutsch-Französischen Jugendwerks: "Deutsch-französischer Austausch: Die Bedeutung der Begegnung in situ für das interkulturelle Lernen"
Menschengesichte. Max Picards literarische Physiognomik
March 31, 2014
Karsten Lichau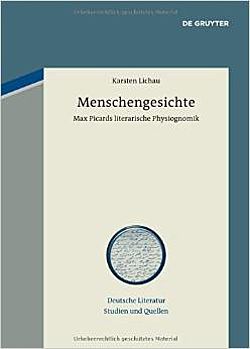 Edition:
Oldenbourg Akademieverlag
ISBN:
305006269X
Max Picards frühe Schriften zeichnen sich durch eigenwillige literarische und kulturphilosophische Positionen aus. Karsten Lichau lotet die Spannungen und Brüche in Picards oft vorschnell als kulturpessimistisch oder konservativ etikettiertem Frühwerk aus, das zwischen 1914 und 1933 entstand. Im Zentrum steht dabei eine ebenso umkämpfte wie schillernde literarische Figur: das Gesicht. Indem die Studie textnahe Lektüre mit kulturhistorischer Kontextualisierung verbindet, geht sie den Um- und Abwegen der schriftstellerischen Laufbahn Picards nach und eröffnet neue Perspektiven auf seinen weitgehend in Vergessenheit geratenen Beitrag zum literarischen Feld der Weimarer Zeit. Zugleich zeigt die Untersuchung, dass Picards Texte die fiktiven oder prophetischen "Gesichte" reflektieren, die in außerliterarischen Feldern zirkulieren - von Kunst- und Medientheorie über Geschichtsphilosophie sowie jüdische und christliche Theologie bis hin zur ästhetischen Medizin und Rassenhygiene. Sie lassen sich als eine "literarische Physiognomik" moderner Kulturen lesen.