(BMBF) Multiple Crises. Covid-19 and the Entanglements of Public Health, Security and Ecology in Europe
Environment, climate, energy: Societies and their ecological challenges
The project "Multiple Crises. Covid-19 and the Entanglements of Public Health, Security and Ecology in Europe", funded by the German Federal Ministry of Education and Research (BMBF), explores the entanglements and interplay between various crisis phenomena. The Covid-19 pandemic and climate change are the main foci of the analysis. Both crisis phenomena are equally accompanied by social, political and economic distortions, and manifest as multiple crises characterized by a high degree of complexity, multidimensional interactions, existential threat situations and an immediate need for action. The concrete interdependencies of these phenomena, which are perceived as "existential crises", are identified and analyzed with respect to three major thematic areas, namely public health, security and ecology.
The analysis focuses on three levels of investigation: crisis perception in European societies (1), crisis analyses from scientific experts (2) and crisis responses of political institutions and decision-makers (3). Following an interdisciplinary approach and in line with the concept of a "history of contemporary problems", the project looks at adaptation practices, coping strategies and political reaction patterns at the local, national and European level In dialogue with Franco-German perspectives, it aims to develop critical humanities and social sciences-related outlooks on current crises and threats, and aims to examine their historical and societal dynamics in a global context. Researching the interaction of multiple crises should thus enable a better understanding of the perception, analysis and management of complex and entangled crisis phenomena in present-day Europe.
Lead researcher: Judith Nora Hardt (CMB), Gabriel Bartl (CMB)
Funding agency: Federal Ministry of Education and Research (Bundesministerium für Bildung und Forschung, BMBF)
Duration: 03.2021 – 02.2024
Principal Investigator(s):
Judith Nora Hardt works as a postdoctoral researcher at the Centre Marc Bloch. Her research is based on a critical-normative approach and aims to develop conceptualizations of security, conflict, human well-being and justice via new readings of human-nature relations. Since 2021, she leads the BMBF funded research project "Multiple Crises: Covid 19 and the Entanglements of Public Health, Ecology and Security in Europe" at the CMB. Her work is bolstered by her engagement within the Scientists for Future movement.
Gabriel Bartl is a sociologist who has been working on the phenomenon of (in)security within the framework of several research projects during recent years. His work in the field of security research has covered various research areas, such as acceptance and risk perception research, (critical) resilience research, surveillance studies, critical security studies, and science and technology studies. Among other things, he has dealt with the question of what social implications arise from the observable trend towards an increasing epistemisation and technicization of security. Since September 2021, he has been working as one of two project leaders of the research project "Multiple Crises. Covid-19 and the Entanglements of Public Health, Security and Ecology in Europe" at the Centre March Bloch.
Events:
*13.10.2022 - Roundtable "Public Health and Climate Change: The role of imaginaries in coping with multiple crises"
- As part of the workshop Junges Forum "The imaginary in times of crises"

- Panelists:
David Fopp (CMB - Climate Change Center Berlin Brandenburg)
Frédéric Graber (CNRS)
Timothée Ingen-Housz (Universität der Künste Berlin)
Jörg Niewöhner (IRI THESys, HU Berlin
*14.10.2022 - Multiple Crises PhD Colloquium (first session)
The PhD colloquium is organized in cooperation with SciencesPo Paris and will focus on critical humanities and social-sciences related outlooks on current crises and insecurities. This first meeting in October 2022 presents the kick-off event of a Multiple Crises PhD Colloquium series out of four events.The goal is to provide space to discuss theoretical, conceptional and methodological approaches to researching on multiple crises such as the Covid-19 pandemic and climate change. Additionally, the colloquium offers participants the opportunity to exchange and connect with other researchers from a Franco-German research context.
*03.05.2022 – Klima-Energie-Seminar & Multiple Crises Arbeitskreis-Präsentationen
1. Lecture

Angélique Palle (IRSEM), Florian Opillard (IRSEM): From covid-19 outbreak to climate security, analysing military involvement in the 21st century crisis management
2. Lecture

Adrien Estève (CERI): Climate change and security: conflicting approaches and emerging trends
*05.10.2021 – Opening workshop Multiple Crises
The kick-off workshop of the BMBF-funded research project "Multiple Crises. Covid-19 and the Entanglements of Public Health, Security and Ecology in Europe" took place on October 5th, 2021 at the Centre Marc Bloch. A total of 12 scientists from different disciplines of the German-French research scene were present. The workshop served to introduce the project Multiple Crises and to present and discuss its two sub-studies. Study A is led by Dr. Judith Hardt and is dedicated to the topic of "Climate and existential crises". Dr. Gabriel Bartl, who has served as the second project leader since September 2021, presented his initial reflections on Study B, which focuses on the handling of crises, such as Covid-19.
Following the presentations, various participants highlighted selected aspects and issues that seemed relevant to them for the project by means of brief inputs. With the help of these diverse perspectives, it was possible to discuss the concept of crisis intensively and to explore the conceptual framework within which it is located. Some participants also emphasized the role of crises as a driver of social inequalities and the possibility of their instrumentalization to procure legitimacy for certain interests. Another focus during the workshop was - in addition to characteristics, peculiarities and side effects of crises - the coping strategies, which come into particular focus in a theoretical as well as empirical examination of the climate and corona crises. With regard to the crisis response patterns observed in these contexts, the need for a critical examination of different forms of risk politics (e.g., resilience and statistical modeling) was discussed.
In addition to the presentation of the overall project, including its two sub-studies, and the interdisciplinary exchange that could inform the theoretical perspectives and approaches for the Multiple Crises project, the workshop also provided an opportunity for networking and the exchange of literature recommendations, which were subsequently circulated among all participants, as well as the consideration of future collaboration and publication formats.
Publications:
Bartl, Gabriel, Hardt, Judith (2022): "Zum Verhältnis zwischen Wissenschaft und Politik im Kontext multipler Krisen: Covid-19 und die Klimakrise als Herausforderungen für die wissenschaftliche Politikberatung", in: Zeitschrift für Umweltpolitik & Umweltrecht. - https://online.ruw.de/suche/zfu/Zum-Verhae-zwisch-Wissen-und-Politi-im-Kontex-mult-02d517156f740d85542e6340b143ae93?crefresh=1
Bartl, Gabriel (im Erscheinen): "Krise und technologischer Solutionismus: Die politische Dimension des digitalisierten Umgangs mit Unsicherheit", in: Wagener, A; Stark, C. (Hrsg.): Die Digitalisierung des Politischen. Springer Verlag.
Bartl, Gabriel (2022): "La relation science-politique face aux crises : l'exemple de la pandémie de Covid-19 en Allemagne", in: "La politique climatique allemande. Comment rattraper le temps perdu?", Revue Allemagne D'Aujourd'hui - https://www.septentrion.com/fr/livre/?GCOI=27574100399050
Hardt, Judith Nora (2022) "The United Nations Security Council at the edge of Climate Change?" Journal Politics and Governance,

Open Access: https://www.cogitatiopress.com/politicsandgovernance/article/view/4573/4573
von Lucke, Franziskus, Hardt, Judith Nora (2022) "La politique climatique allemande sous l'angle de la politique extérieureet de sécurité : une solution d'avenir ?" in: "La politique climatique allemande. Comment rattraper le temps perdu?", Revue L'Allemagne D'Aujourd'hui - https://www.septentrion.com/fr/livre/?GCOI=27574100399050
Hardt, Judith Nora, Zeigermann, Ulrike and Vannier, Sébastien (2022) "La politique climatique allemande. Comment rattraper le temps perdu?", Revue L'Allemagne D'Aujourd'hui - https://www.septentrion.com/fr/livre/?GCOI=27574100399050
Hardt, Judith Nora (2021) "Research Perspectives and Boundaries of Thought: Security, Peace, Conflict, and the Anthropocene", in: Special Issue Revista de Estudios en Seguridad Internacional,

Open Access: http://www.seguridadinternacional.es/resi/index.php/revista/article/view/347
Hardt, Judith Nora, Scheffran, Jürgen (2020): "L'(in)sécurité planétaire vue par le réseau de la Planetary Security Inititative : une approche critique de l'expertise face à l'Anthropocène" in: Les Champs de Mars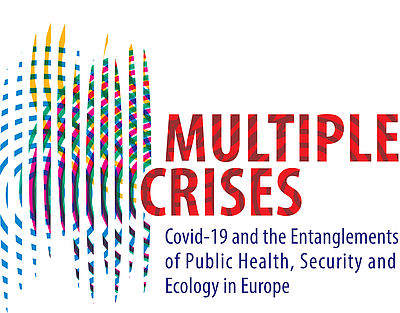 Principal Investigator(s):